We work better together
Solutions for our partners
Partnerships and collaboration are at the heart of how we work. We build eco-systems that help people create insights to solve complex problems. If you think that you can contribute to this then we would like to talk to you.
We partner for many reasons. You may have a source of data that needs a greater audience and a tried and trusted route to market. Collectively, your technology and our data may help open up new markets, or simply, you may be a consultant that has an area of expertise we'd like to introduce to our client base.
We believe that there is no such thing as a wasted conversation. Please get in touch, so we can explore working together.
Some of the organisations we work with: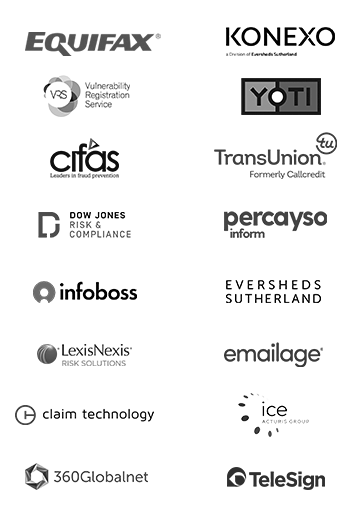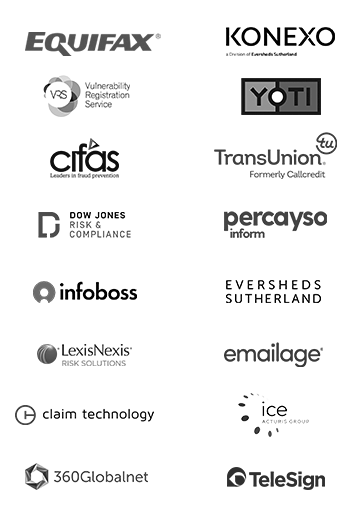 Our different partnerships
We collaborate in many different ways. These areas broadly cover the main approaches, but if they don't fit what you have in mind we're always open to trying something different.

Data Partners
Maximise the value of your data by becoming one of our trusted Data Partners. By joining our platform you can extend your reach to new clients across sectors such as banking, insurance and utilities. Integration and orchestration is done within our platform so speed and ease of implementation are ensured. If you have data that could enhance our offering, we want to hear from you.

Technology Partners
Grow your potential and gain more market share quicker. As one of our Technology Partners, you will enhance our offering with programs, applications and systems that allow us to deliver swift and effective solutions to a growing client base. Together, we propel our business forward.

Consultancy Partners
We work with industry experts like you. We recommend services into our clients to help with issues from strategic reviews, data health checks, training through to solution optimisation. The combination of your expertise and our technology makes a very compelling proposition.

Reseller Partners
Open up new opportunities by selling our products in your portfolio. Becoming a reseller allows you to employ our ready-packaged solutions to win new business, solve your existing clients' problems quickly, enter new markets - and grow your business, a win/win proposition.